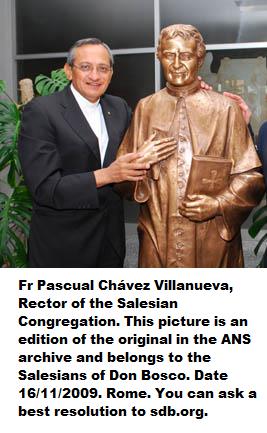 Pascual Chávez Villanueva (Don Chávez in the Salesian Tradition) is a Mexican Catholic Salesian priest and the current Rector Major of the Salesian Congregation since April 3, 2002. He became the 9th successor of Don Bosco in the governance of the second biggest male Catholic order. Don Chávez is also the second Latin American priest to become Rector Major (the first was Fr Juan Edmundo Vechhi of Argentina).
During the 26th Salesian General Chapter celebrated in Rome between February and April 2008, he was confirmed for a second term as Rector Major. Don Chávez was born in Real de Catorce - San Luis Potosí, Mexico on December 20, 1947. During his time as RM he has visited almost all the Salesian Provinces around the world.
Predecessor: Juan Edmundo Vecchi.
Sucessor: Current.
Titles:

Great Official of the Heraldic Order of Christophorus Colombus by the Presidency of República Dominicana, January 23, 2004.
Distinguish Citizen by the Governor of Coahuila, Mexico, February 24, 2004.
Adoptive Son of the City honor by the Municipality of Valsalabroso, Salamanca, Spain, August 18, 2004.
Doctor Honoris Causa in Theology by the Universidad Católica Don Bosco of Campo Grande, Brazil, November 1, 2005.
Fellow citizen of Saint Dominic Savio, Riva-Aosta, Italy, June 10, 2007 in commemoration of the 150th anniversary of the death of Dominic Savio.
Fellow Citizen of Don Bosco by the Hall Council of Turin, December 18, 2009.[1]
Doctor Honoris Causa in Humanities. Universidad Don Bosco. El Salvador. October 22, 2011.
References
Edit