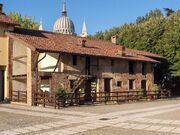 I Becchi is a fraction of the Castelnuovo Don Bosco commune in the Province of Asti, 20 kilometers at the east of Turin. It is also known as Colle Don Bosco, because in that place is located the house of the childhood of Don Bosco. He was born in I Becchi on August 16, 1815 in the house of the Biglione Family. Today there is a temple on the spot to commemorate the birth and childhood of the saint.
Ad blocker interference detected!
Wikia is a free-to-use site that makes money from advertising. We have a modified experience for viewers using ad blockers

Wikia is not accessible if you've made further modifications. Remove the custom ad blocker rule(s) and the page will load as expected.